Launched in 1970, MYL's work was originally centred on the development and management of adventure playgrounds, which were built by local community groups and families in response to a lack of inner city play and leisure facilities in areas such as Ardwick, Moss Side, Hulme, and Wythenshawe.
These community groups joined together as Manchester Adventure Playground Association (MAPA) and supported the development of adventure playgrounds in additional areas of Manchester (such as Cheetham Hill, Turkey Lane, Newall Green and Harpurhey) in the 1970s. Although the number of playgrounds reduced due to lack of funding in the 1980s and 1990s, Play and Youth work continues to be an integral element to the provision provided by Manchester Young Lives today and adventure playgrounds are at the heart of our 3 centres in Wythenshawe, Ardwick and Moss Side.
The 1990s saw the origins of what is now our Independent School provision, with the establishment of the "Schools Otherwise" project in Ardwick and the further development of educational provision at other centres.
Since 2000, the organisation has evolved significantly. Rebranded as Manchester Young Lives in 2003, the organisation has continued to thrive and has successfully developed a number of youth work, education and training programmes – particularly targeted at children and young people at risk of social exclusion.
Our education project, established in 1999, realised its full potential in 2010 with MYL registering as an Independent School. Following this, the organisation has continued to expand to meet the needs of young people in Manchester, exemplified by the establishment of both our Youth Engagement and Youth Work Apprenticeship programmes in 2015. Investing in young people is the organisation's raison d'être, which is highlighted by the launch of our Employability Programme in 2017.
Manchester's first adventure playground is set up in Moss Side by local families working with a Manchester youth work agency, the Youth Development Trust. The playground was built in the middle of the old Victorian streets, a few hundred yards from where our redeveloped adventure playground now stands.
1970
First adventure playground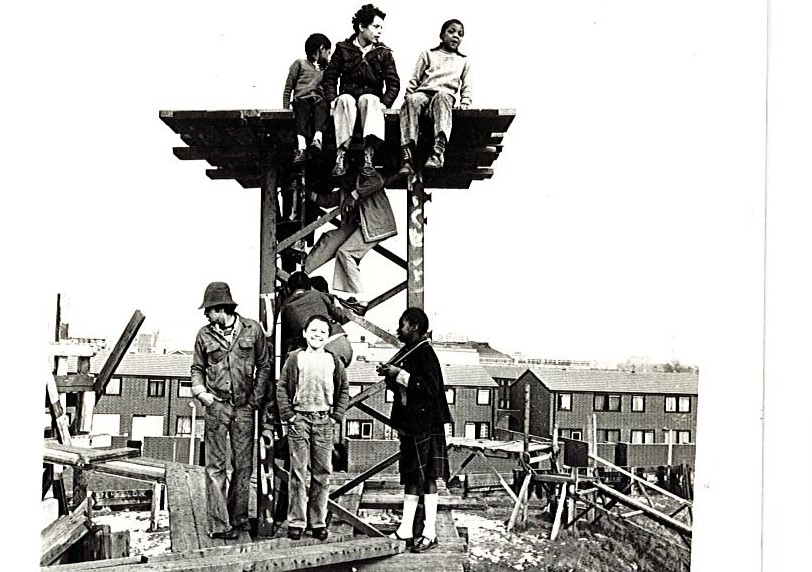 As a response to a lack of inner city play and leisure facilities, other local groups in Hulme, Longsight and Wythenshawe come together to build the original adventure playgrounds. Improvised from wood and tyres, their unique and personal charm is still retained in their redeveloped form Manchester City Council fund the groups to employ play workers.
1970-72
Local groups come together
Community groups join together as Manchester Adventure Playground Association supporting the further development of adventure playgrounds in Cheetham Hill, Turkey Lane, Newall Green and Harpurhey.
1973-1975
Manchester Adventure Playground Association formed
Six adventure playgrounds close but four remain open - Moss Side, North Hulme, Wythenshawe & Longsight.
1982
Six playgrounds closed
Additional capital funding secured to rebuild old playgrounds and develop purpose built centres. Over the next decade the new centres enable the development of a wide range of services including pre-school and youth club facilities.
1984-1989
Additional capital funding secured
Working with the City Council and local schools a School Otherwise project is set up at the Longsight centre to provide education and support to local secondary school non-attenders. This leads to further development of educational provision at other centres.
1999
School Otherwise project setup
Support from Manchester Children's Fund and Lottery enables the development of wider play provision in Manchester including the Parktastic project offering wider outreach play provision in parks and open spaces.
2002
Manchester Children's Fund & Lottery support
Reflecting the ongoing development of services to young people and increased reach to young people in the city, the organisation is renamed Manchester Young Lives (MYL).
2003
Renamed Manchester Young Lives
With major support from Manchester City Council, Willow Park Housing Trust, Sport England and The National Lottery, the Benchhill Addy relocates to Woodhouse Lane. A new purpose built play, sport and education centre is built - The Addy Young People's Centre, reflecting the growing focus on youth provision within the organisation.
2005
Relocated to The Addy
Support from the national Play builder funding enables the refurbishment of Longsight (A6) adventure playground and the extension of play services at other playgrounds. In the same year, our education project realises its full potential as Manchester Young Lives registers as an Independent School.
2010
Advances in Play & Youth and School provisions
With a renewed commitment to development and expansion MYL launches it Youth Engagement Programme to reach more young people across Manchester who are not accessing education, employment and training. This work quickly expands to include new partnerships with statutory agencies such as the Police, Youth Offending Service, NHS and housing providers to tackle issues of youth offending, anti-social behaviour, drug and alcohol misuse, homelessness, debt, health and wellbeing. A major Lottery grant expands the youth engagement team with funding for the next 4 years.
2014
Youth Engagement Programme launched
Police and Crime Commissioner and Henry Smith Foundation fund MYL to work discretely on Child Sexual Exploitation (CSE) which quickly expands to include Child Criminal Exploitation (CCE) taking MYL into more collaborative partnerships with the wider youth justice system.
2016
Expansion of Youth Engagement work
First of MYL's annual awards events held to showcase the fantastic stories of young people who have won awards, highlighting their determination to overcome challenges in their journey to succeed.
2016
Annual Awards Event launched
MYL launches a city-wide Employability Programme offering work placements and apprenticeships to young people 16 -18. MYL employs its first cohort of 6 Youth Work Apprentices to work across our divisions.
2017
Introduction of Employability Programme
Working in partnership with Out of the Box (OTB), MYL undertakes its first overseas residential expedition to Ethiopia in May. Seven young people from Moss Side travel to Addis Abba to work on the restoration of an adventure playground built by OTB in 2015.
2018
First overseas residential expedition
MYL takes on a management contract to run Moss Side Millennium Powerhouse, an iconic purpose built Multi-Services Youth Hub facility.
2018-2019
Mangagement of Moss Side Powerhouse
MYL will celebrate 50 years of working with children and young people in some of the most disadvantaged areas of Manchester in 2020, with a series of celebration events and activities to take place.
2020
MYL celebrates 50 years